AI GIJIROKU's speech recognition uses the world's most accurate algorithm, and the personalized artificial intelligence model unique to alt boosts the accuracy by an additional 5% or more, making it a reinforcement learning type speech recognition service that becomes more accurate the more it is used.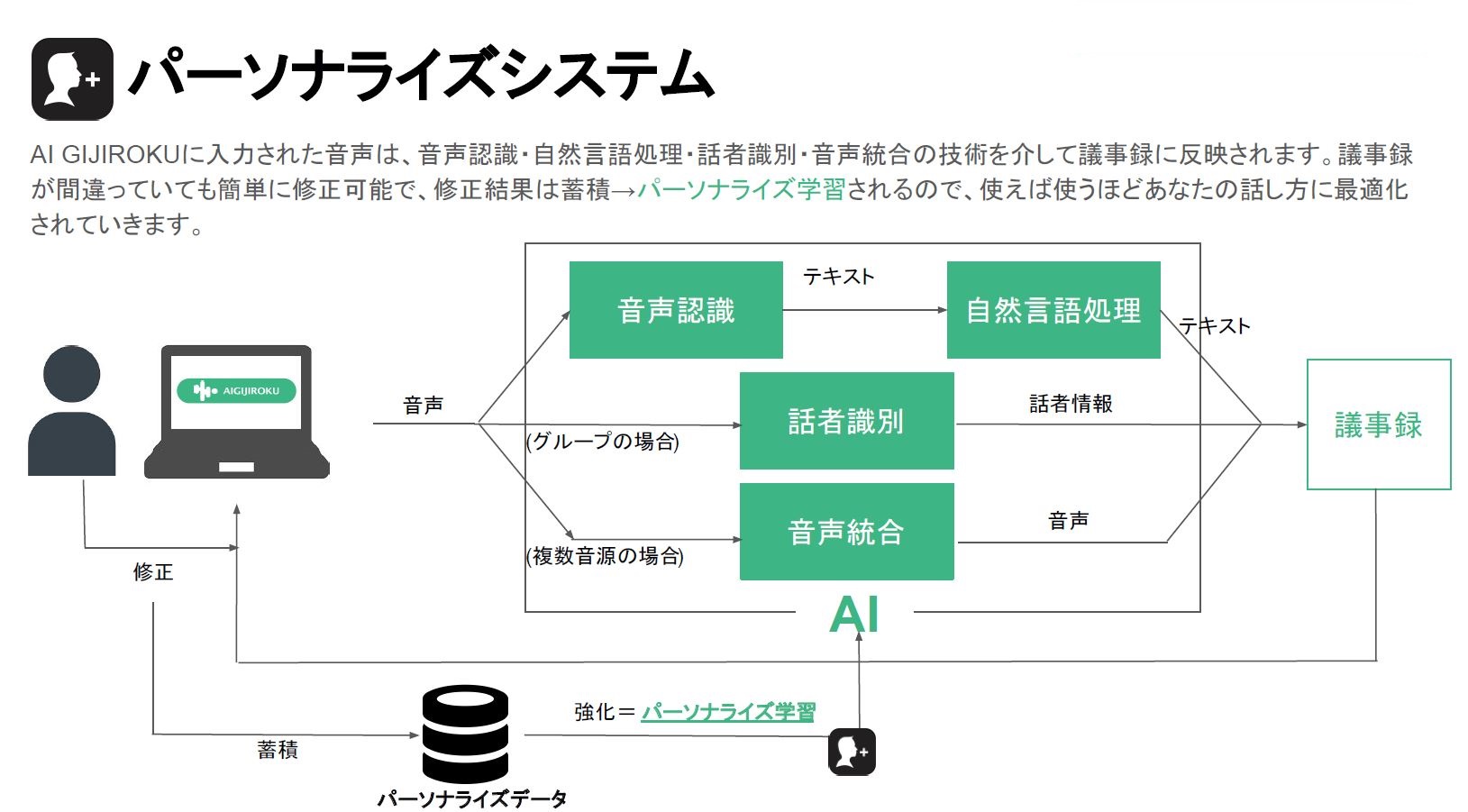 参考リンク)AI GIJIROKUの認識精度が高いのはなぜ?
Here we introduce a method to further improve AI GIJIROKU's speech recognition accuracy.
1. Select and use industry-specific speech recognition
By using industry-specific speech recognition engines, specialized terms unique to your industry can be recognized with a high degree of accuracy. If there is an item that fits your industry, do not hesitate to choose it.
The industry categories include "law," "insurance," "finance," "medical," "Japanese history," "world history," "chemistry," "local government," "diet," "COVID-19," "pharmaceuticals," "architecture," "IT terminology," "HR and labor," "accounting audit," etc. Please select the industry category that best suits your company or business and use it.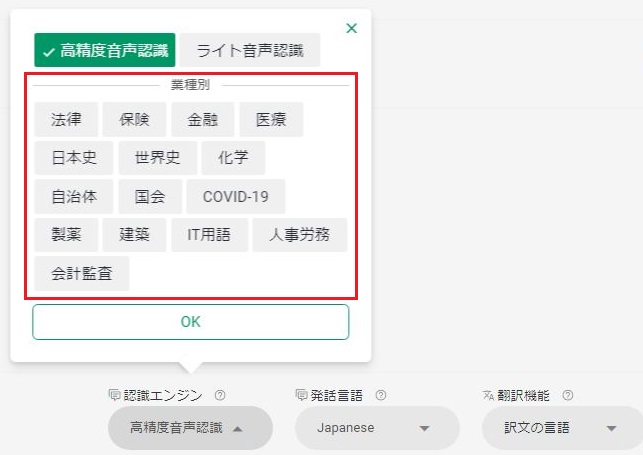 *When "By Industry" is selected, recording time is consumed from the available "Minutes Recording Time" as well as from "High Accuracy/Industry Speech Recognition".
2. Voiceprint registration to take advantage of the speaker separation feature
"Voiceprint registration," in which the artificial intelligence learns the voice quality, allows you to use the personalization function* to identify the speaker.
By using voiceprint registration, even in a group meeting with multiple participants, the artificial intelligence can separate "who spoke" from the voice quality and display the results.
This makes it easier to improve the accuracy of voice recognition.
※ Automates speaker identification in a dialogue by determining the user's voiceprint.
State-of-the-art models with up to 93.3%+ accuracy and 76.5%+ accuracy in noisy environments are available.
For more information, please refer to this article.
Learn about the benefits of voiceprint registration and how to register.
3. Register a dictionary
One of the major factors that reduce the accuracy of speech recognition is the frequent use of uncommon special terms (referring to technical terms and users' own proper nouns) in speech. By registering those special terms in the dictionary in advance, the accuracy of speech recognition can be improved.

There are several ways to register a dictionary:
1)Select speech recognition results after recording and register the dictionary to AI GIJIROKU.
2)AI automatically registers the dictionary to AI GIJIROKU through Google/SMS linkage, etc.
3)Register dictionaries in AI GIJIROKU in a CSV file at once.
Please refer to this article for information on how to register a dictionary.
4. Use a headset microphone during recording
Although a PC's built-in microphone can be used, we strongly recommend using a headset microphone connected to the terminal to further improve the accuracy of speech recognition.
Please refer to our article on how to set up a headset microphone in our article on how to set up a microphone, as the setting method varies depending on Windows, Mac, and the browser you are using.
*For information on how to set up the microphone on smartphones and tablets, please click here.


5. Check recommended operating environment
Depending on the specifications of your PC, your browser may slow down and affect the recording. You may be able to improve the problem by closing as many tabs as possible on your browser.
Please review the recommended system requirements in the following article.
Reference) Recommended system requirements

The above 5 points are the key points to improve the accuracy of speech recognition.