For an introduction to the recording procedure for hybrid offline + online meetings, please see this video.
Group recording is available for meetings with a large number of participants. Group recording allows you to use the "Speaker Identification" function to identify which of the participants in the meeting spoke.

There is no limit to the number of participants in a group recording (when each participant has an AI GIJIROKU account and each voiceprint is registered individually, and then the recorded content is used to identify the speaker), but we recommend a maximum of 20 participants.

There are two types of group recording in AIGIJIROKU: "group recording (with a single microphone (PC))" and "group recording (with multiple microphones (PCs))" which is used when online video tools such as Zoom are used. The distinction between the two is as follows
Group recording (with a single microphone): Used when multiple people are meeting in the same space, and the microphone (PC) is used to record and identify the speaker using voiceprints.
Group recording (with multiple units): Used for meetings with people in different spaces using online meetings such as video chat.

First, the "group recording" function is explained.
■ Creating a Group
First, select the "+" button on the left side of the screen.
The "Create Group" screen will appear. Enter the name of the group and the email address of the invited user, and select the "Create" button.
This completes the member invitation.
The invited party will receive an invitation link by e-mail, and can join the group recording by signing up from the link.

Next, you will need to register your voiceprint, which is required to identify the speaker in the voice recording.
Please read this page for more details on voiceprint registration.
■ Group recording begins
From "Groups" on the left, select the name of the group you just created to move to the recording screen.
Press Start Recording.
This time, select "Group Recording (with one unit)" since this is a type of recording with one unit, and then select the green button "Start".
Recording will begin and the audio will be recorded.
At this time, check to see if the audio of multiple people is output in the form of a transcription.

To end the recording, select "End Meeting" at the bottom of the screen.
After the recording is complete, the AI will automatically identify the speaker based on the voiceprint registration mentioned earlier.
Check if the voice corresponds to your account icon.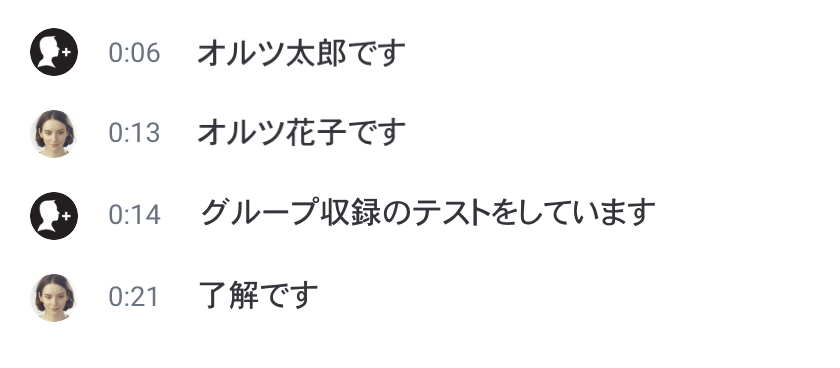 ■ If the icon becomes "?"
Please refer to this article.